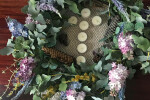 Join us on Facebook and the Union Chapel Indy YouTube channel for daily devotional content during the entire Lenten season — including podcasts, musical features, and sermon discussions!
On Mondays during Lent, Pastor Elizabeth will be focusing a devotional on the practice of the "Lenten Wreath" or the "Lenten Cross." So that you can fully participate, we invite you to gather supplies from around your home to fashion your own Lenten Wreath! Then, tune in to Union Chapel's Facebook page on Mondays for direction on how to use the wreath in your personal devotion time.*
First, a little bit about the tradition:
The exact origin of the "Lenten Wreath" tradition is a bit mysterious but — similar to its more popular counterpart (the Advent Wreath) the practice visually portrays the anticipation of the holy season with symbolism that is meaningful and powerful.
Historically, Lenten Wreaths or Crosses would have been fashioned from the wood of one's Christmas tree. Contemporary wreaths often include some or all of the following:
Purple: The color of Lent. Symbolic of mourning and also royalty.

Palm leaves: Symbolic of Jesus's triumphal entry into Jerusalem. (Matthew 21:1–9)

Candles: Most traditions use 1, 3, or 6 candles. The most common candle color combinations used for Lenten wreaths include purple, red, rose, white, and black. Each color has a particular religious meaning.

A cross symbol or crown of thorns
In February, Union Chapel's Family Fun event featured Lenten trivia and a challenge to collect items around the house that could be fashioned into a Lenten Cross or Wreath (without going out and buying anything). Below are some inspirational examples that came from the group — including some that won the coveted "best improvisation" awards! Items they used included: birthday candles, votives, tapers, sand, shells, leaves, drinking glasses, pie plates, platters, wood, sticks, flashlights, electric candles, marbles, old wreaths, Easter grass, yarn, paint, hymnal paper, pebbles, napkin rings, fabric scraps, and more.
*If you have any difficulty finding the Monday Lenten Wreath devotional on Facebook, please us for a direct link.