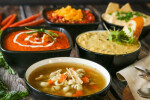 Last month's Community Dinner was a success in many ways. Not only did we host a number of new neighbors and friends but there were dozens of requests for Sharon's soup recipes.
Without further ado... here they are:
Italian Wedding Soup (Serves about 6)
Meatballs (Homemade Italian Sausage)
1 pound breakfast sausage (can use sausage links and remove casing)

1 teaspoon fennel seeds

1 teaspoon dried basil

1 teaspoon dried oregano

1 teaspoon garlic powder

1 teaspoon dried parsley

½ teaspoon onion powder

½ teaspoon dried rosemary

½ teaspoon black pepper

Pinch of red pepper flakes (optional - I did not use)

1 egg

½ cup dry breadcrumbs or panko
Mix well. Form into meatballs and bake for 12-15 minutes at 400 degrees F. Will not be totally done, but will finish cooking when added to the soup.
The Soup
2 Tablespoon olive oil

¾ - 1 cup diced carrots

¾ - 1 cup diced celery

1 medium yellow onion, diced

4 cloves garlic, minced

8 cups chicken broth

¼ pound small pasta

½ pound baby spinach (more or less as desired)
Saute carrots, celery, and onion in oil until soft. Add chicken broth. Bring to low boil and add garlic. Add pasta and allow to simmer for awhile. Add previously prepared meatballs and allow to heat thoroughly. Add spinach. Heat through.
Serve topped with fresh grated parmesan and some crusty bread.
Chicken Velvet Soup, based on Ayres Tea Room soup (Serves about 4 - 6)
Ingredients
1 ½ stick butter

¾ cup all purpose flour

1 cup warm milk

1 pint Hot chicken stock

1 cup warm cream

1 ½ cup chopped cooked chicken (Can use canned chicken. Use canning liquid as part of the chicken stock)

1 quart chicken stock

¾ teaspoon salt

Dash white pepper
Directions
In a large pot, combine butter and flour, blending well. Add warm milk, the pint of hot stock, and the warm cream. When mixture begins to thicken, add remaining ingredients and cook over low heat until hot.
Baked Potato Soup (Serves about 6 - 8)
Ingredients
1 pound baked potato "innards"

Liquid to thin potatoes to a puree (Chicken Stock, Vegetable Stock, or Milk)

⅜ cup diced onions

2 Tablespoons Butter

1 Tablespoon all-purpose flour

1 pint milk

¼ cup cream

White pepper
Directions: Process potatoes to a puree, using liquid of choice. Melt butter, add onions and cook, stirring often, until golden. Sprinkle with flour and cook, stirring, for a few minutes.
Heat milk and add gradually to the onion mixture. Sook, stirring, until the sauce is smooth and thickened. Simmer 10 minutes, stirring often. Combine with the potato puree. Heat well.
Add cream and heat gently. Taste and adjust the seasoning as needed.
Bon appetit!
We hope you'll always join us for our monthly community dinners, held on the last Wednesday evening of every month at 6:15 p.m. It's always free and it's a great way to get to know your neighbors!